Bible illustrations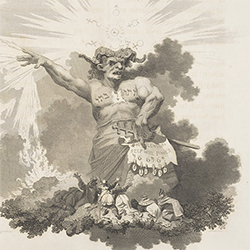 The Bible Collection at the John Rylands Research Institute and Library is one of the finest in the world, spanning six centuries and more than 400 different languages and dialects. It originated with Enriqueta Rylands' purchase of the Spencer Collection in 1892. Subsequent additions included the donation of 2,000 Bibles by Mrs Ernest Hartland of Chepstow in memory of her late husband Mr Hartland in the 1930s.
Within the Bible Collection, there are many thousands of biblical illustrations.
This digital collection originated from the research of Dr Naomi Billingsley, Leverhulme Early Career Fellow at John Rylands Research Institute and Library (2017–2019). The project examined the formation and reception of the Macklin Bible, an important illustrated Bible published in London between 1791 and 1800.
The Macklin Bible was one of several illustration projects in London in the late eighteenth century that commissioned paintings of a literary text from artists of the day, exhibited the pictures at their premises, and published high quality large engravings after the paintings as individual plates or alongside an edition of the text.
There are four copies of the Macklin Bible in Special Collections, reflecting the composite origins of the Bible collection. This digital copy (Spencer 11819) includes the Old and New Testaments published by Macklin, and the Apocrypha, published in the same format by Cadell and Davies in 1816.
A second edition of the Macklin Bible was published by Cadell in 1824. Several new designs were created and others adapted from the original plates for the second edition, which are included as individual plates in this digital collection (R47430).
The final item included in this collection is the illustrated Bible published by Macklin's rival publisher, Robert Bowyer between 1791 and 1795 (R14793), with engravings by James Fittler after Old Master paintings. Bowyer was simultaneously publishing his History of England on a similar model to the Macklin Bible (1793–1806; SC13580). Bowyer later amassed a collection of over 6,000 Bible illustrations, which he used to extra-illustrate a copy of the Macklin Bible (now in Bolton Library and Museums).
Work to create TEI descriptions of these three sets of Bible illustrations was undertaken by Naomi Billingsley in 2019. This digital collection will be added to as part of the Library's continuing digitisation programme.