Manchester Digital Collections: Frequently Asked Questions
1. What is Manchester Digital Collections (MDC)?
MDC is an online platform providing access to the University's digitised heritage collections curated around particular themes and informed by expert interpretation. Funded by the Research Lifecycle Programme from 2018, the platform was built in collaboration with Cambridge Digital Library (University of Cambridge) and launched in January 2020.
Its development is driven by a research need to provide a sustainable platform for digital humanities activity, enhance digital collections by aligning them with scholarly research, enable collaboration locally, nationally and internationally, and make our exceptional collections open and accessible to as many people as possible. MDC is a founding member of the Cambridge Digital Platform Consortium and continues to collaborate on the open-source code on which the platform is based.
The platform supports Text Encoding Initiative (TEI) metadata and ultra high-quality, International Image Interoperability Framework (IIIF) digital images.
MDC is underpinned by five core values: audience focus, collaboration, open access and open data, discoverability and ease of use, and citation.
2. What types of material does MDC provide access to?
MDC is a platform for digital images of heritage items and their associated metadata. Current collections span over 2000 years and contain a rich variety of formats, from papyri, illuminated manuscripts and early-printed books, to photography, paintings and plant specimens. Material is drawn from the University's collections across all cultural institutions and in some cases is complemented by material from external repositories.
As MDC develops, support for audio-visual content and advanced imaging techniques such as 3D objects and multi-spectral imaging is being explored.
3. Are all the University's digitised heritage items on MDC?
MDC focuses on curated collections of digital content with enhanced descriptions. The John Rylands Research Institute and Library also hosts digitised items on Library Digitised Collections (LUNA), these are often items which are not fully digitised, have more basic metadata or don't belong to a curated collection.
4. What kinds of research projects has MDC supported?
MDC offers a sector-leading platform for digital humanities research outputs. Based on open-source code and interoperable image and metadata standards, MDC provides a sustainable platform underpinned by digital preservation processes. Recent projects include:
A digital scholarly edition of the Mary Hamilton Papers as part of a major AHRC-funded project has been supported by the development of translation and transcription functionality for MDC.
Two large-scale cataloguing and digitisation projects of the Rylands' Persian and Hebrew manuscripts have provided access to expert descriptions for over 300 items.
Other examples of research-led collections include Japanese Maps (as part of the Marie Sklodowska-Curie Actions Project Travel in Tokugawa Period Japan (1603-1868): Identity, Nation and Social Transformation led by Dr. Sonia Favi (2019-2021)) and Petrarch (as part of the AHRC-funded Petrarch Commentary and Exegesis in Renaissance Italy, c.1350-c.1650).
Forthcoming collections include a Digital Edition of the Papers of Heinrich Simon and a Dante Digital Library for the AHRC-funded project Envisioning Dante.
5. Who is involved and how does the process work?
MDC is a cross-team project with expertise drawn from across the University. Those involved include software developers, imaging specialists, metadata specialists, conservation specialists, curators, researchers and students. MDC is governed by three groups: the MDC Forward Planning Group, the MDC Coordination Group and the MDC Strategy Board.
The process of publishing a collection of MDC varies from project to project and can take anything from 6 months to 3 or more years. At its most basic, the process from proposal to publication looks like this: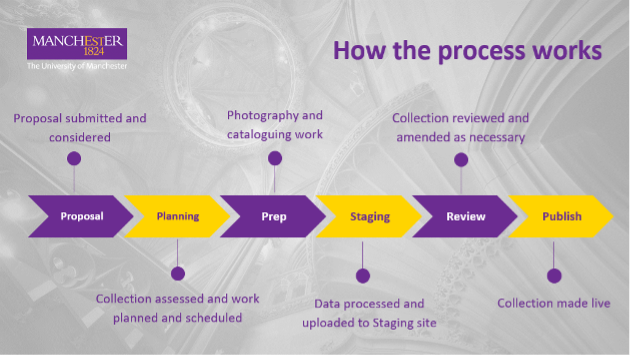 6. How do I submit a proposal?
If you are interested in proposing a collection for MDC first have a conversation with the relevant curator and MDC Content Coordinator to talk through initial ideas and considerations. For large, funded projects costings and advice can be provided. The online proposal form can be viewed here (please note the form is currently only accessible to those with a University of Manchester login, please get in touch if you are external to the University and are interested in submitting a proposal).
Proposals are considered by the MDC governance groups (with representation from across the University) to assess operational requirements and strategic priority.
Things to consider when proposing:
What is the intended audience and impact of the digital collection?
Has the material been already digitised?
Items not hosted on MDC may have already been fully or partially digitised and hosted on other platforms, such as Library Digitised Collections (LUNA).
Is some or all the material owned by individuals or institutions external to the University of Manchester?
MDC prioritises material held by the University of Manchester. However, some collections are greatly enhanced by material from external repositories. Images and metadata from external sources are subject to minimum standards. Formal permission from the owner(s) and/or copyright holder(s) must be obtained for the material to be published on MDC.
What is the condition of the material?
Some material may require conservation treatment before it is able to be digitised. Conservation assessments can be arranged.
How much material is there?
If possible, a page count (or estimate) for all items will allow accurate planning for digitisation.
Is the material catalogued, and will the metadata (catalogue records) need enhancing?
High quality metadata is essential for enabling user access to collections. Ideally material should be catalogued on an online catalogue platform before digitisation is possible. Metadata is likely to need enhancing to meet minimum standards for MDC as part of the process of preparing a digital collection.
Does the current functionality offered by MDC meet your needs?
MDC is continually developing but if you have particular development needs developer time should be costed into your project.
Do you have permission to digitise the material or provide access to existing digital images?
Copyright and other ownership rights should be considered, both for the original material and the images themselves.
It is the responsibility of the applicant to identify, trace, and seek formal permission of the copyright owner where material requested for digitisation is still in copyright.