The Bow in the Cloud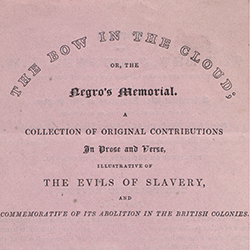 These two volumes contain the original manuscripts of verse and prose contributions to The Bow in the Cloud, or The Negro's Memorial (London: Jackson and Walford, 1834), together with numerous letters to the volume's editor, Mary Anne Rawson. The collection features letters from those who contributed, including John Holland and James Montgomery, and those who declined to contribute, including William Wordsworth, Robert Southey and Thomas Moore, and many of the letters express views on slavery. Also included are portraits and engravings of contributors, and newspaper reviews of the publication.
Mary Anne Rawson was a noted campaigner against slavery. She was a leading and founding member of the Sheffield Female Anti-Slavery Society, and a committee member of the Sheffield Ladies' Association for the Universal Abolition of Slavery. These societies campaigned locally and spread information by distributing pamphlets, reports and petitions. From 1826, Rawson worked to compile The Bow in the Cloud as a volume of original prose and verse, intended as literary emancipation propaganda.
This digital collection originated in a project funded by the John Rylands Research Institute and Library (2018/19), directed by Dr Christopher Ohge (School of Advanced Study, University of London). Further information on the project can be found on this featured blog post, as well as on its GitHub project repository.
Content Warning
As a historical resource, this collection reflects the racial prejudices of the era in which it was created, and some items include language and imagery which is offensive, oppressive and may cause upset. The use of this language is not condoned by The University of Manchester, but we are committed to providing access to this material as evidence of the inequalities and attitudes of the time period.