Nancy Cunard Correspondence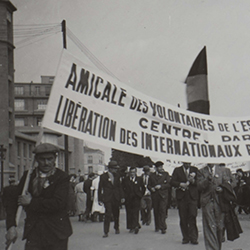 The Manchester Guardian Archive contains a folder of around 125 letters and related material sent between Nancy Cunard (1896-1965), former heiress, activist, and journalist and the Cross Street office of the Manchester Guardian. Most of the letters are addressed to William Crozier (1879-1944) and later A. P. Wadsworth (1891-1956) who became editor on the death of Crozier.
The folder, which covers the period 1935-1955, begins with items sent by Cunard protesting at the treatment of Greek intellectuals following the following the restoration of the Greek monarchy in December 1935.
The bulk of the letters relate to freelance journalism conducted by Cunard on behalf of the Manchester Guardian around the period 1938-9 when she reported on the final stages of the Spanish Civil War from Perpignan. She writes eloquently and movingly on the humanitarian impact of the conflict and the plight of refugees and fleeing republican soldiers.
During and after the Second World War, when Cunard lived in France, she stays in touch with the Manchester Guardian, sporadically offering articles of which few were published.
This collection was digitised in 2021 during the bicentenary of the Guardian newspaper. A telegram sent by Cunard features in the online exhibition 'Manchester's Guardian: 200 years of the Guardian newspaper'.