Latin Manuscripts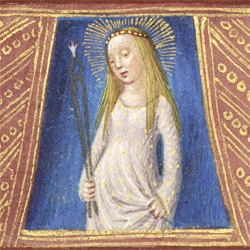 The Library holds a collection of over 500 Latin manuscripts from across Europe and spanning over 1200 years. They range from deluxe manuscripts once owned by emperors and popes, to workaday texts belonging to impecunious students and mendicant friars. 49 of these items have been fully digitised to date.
The collection contains a wide range of texts: biblical, liturgical, patristic, theological, historical, legal and philosophical. There are manuscripts of outstanding importance both textually and for their illumination. M. R. James stated that the illuminated codices contain 'examples, of first-class quality, of the art and calligraphy of all the great schools of Europe'.
The earlier manuscripts are of course overwhelmingly religious in nature: Bibles, Gospel Books, lectionaries, homiliaries, missals, commentaries, patristic texts and apocalyptic literature. Most of the major monastic centres of manuscript production are represented, including Bremen, Cardeña, Erfurt, Essen, Fulda, Himmerod, Luxeuil, Murbach, Stavelot, Trier and Weissenau.
There are also numerous examples of the later output of secular workshops in the cities of Italy, France, Flanders and England, which catered for the requirements of the universities, legal systems and wealthy private patrons.
Most of the significant items derive from the Bibliotheca Lindesiana, the outstanding library that was assembled by the 25th and 26th earls of Crawford between the 1830s and the end of the 19th century. Enriqueta Rylands purchased the manuscript portion of the library in 1901 for £155,000.
Work to create TEI descriptions of the Latin Manuscripts was undertaken by Dr Joanne Edge in 2018-19, in a project funded by a generous legacy from the late John D. Milner.