Mapping Manchester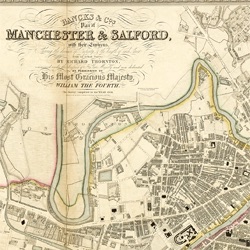 Maps reveal the geographical ideas of the past, the present and the future. They show us our developing knowledge of the world and expose our beliefs. They are powerful objects, which can assert power and deceive. Yet, they also help us to make sense of the world and help us to navigate and construct our cities. Maps stir our imagination and take us to unexplored lands.
Everything happens somewhere! The study of maps and the use of geospatial data is increasingly valued by researchers from a wide variety of backgrounds, ages and subject disciplines. Maps document how our landscapes have changed over time and can help us to visualise transformation brought about by industrialisation and urban development. The ideas and designs used by mapmakers of the past can inform how digital maps are made today. Maps can tell us stories about the society in which they were produced, and by looking at them critically can reveal attitudes towards gender, race and identity.
The University of Manchester Library's Map Collection is the largest in the north of England and comprises over 140,000 maps, dating from the 16th century to the present day. The collection originated in the Geography Department with a loan of maps from two private collectors: Colonel Dudley Mills and R. H. Booker. Today, it includes an extensive range of topographic and thematic mapping for the British Isles as well as wide-ranging coverage for the rest of the world. Antiquarian maps, hand drawn plans, official government mapping, modern prints, ephemera and contemporary artworks are all represented in the collection. A further 3,000 maps originate from the Manchester Geographical Society, which were amassed during the 20th century and which exemplify colonial activity during this period.
Many more maps can also be found in the Library's Rare Book Collections, Manuscript Collections, Visual Collections and Archives.
This digitised collection of maps focuses upon Manchester and the surrounding areas, including the county of Lancashire. They document the rapid expansion of the world's first industrial city and show us its network of canals, rivers and transportation systems. They reveal a landscape transformed by railways, cotton mills, factories and gas works. The maps provide evidence of Manchester's wealth, depicted in decorative borders and illustrated titles but they are also testament to social problems such as poverty, crime and the 'demon drink'.
Maps can also be found in other Manchester Digital Library Collections such as the Peterloo Collection.