Papyri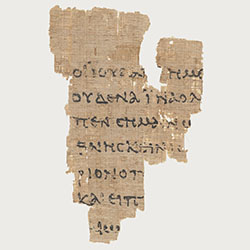 This collection brings together examples of Greek papyri for use in teaching, especially the MA in Medieval and Early Modern Studies. The intention is to introduce some key aspects of book and manuscript history through a variety of written culture from Graeco-Roman Egypt. This digital collection highlights some of the treasures of the Library, including early Christian texts, important manuscripts of Classical literature, and unique records of daily life. There are a number of questions to consider:
How did these papyri survive, and why are they in Manchester?
If you can't read a manuscript, what can its physical features tell you?
What are the differences between a codex, a roll and a sheet? Are these forms associated with different types of text?
How did the availability of different materials change the shape of the book?
Is there a difference between the handwriting style of literary texts (including religious) and documentary sources?
How do we know how old undated manuscripts are?
What sorts of people wrote and read these manuscripts?