Persian Manuscripts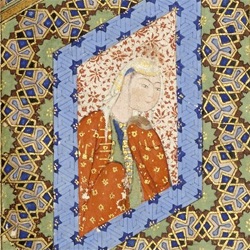 The Library holds an important collection of nearly one thousand Persian manuscripts, dating from between the early 13th century CE and the 20th. There are numerous calligraphic and lavishly illustrated texts and decorated bindings, alongside early copies of important literary and historical works. The collection contains manuscripts produced throughout the Persianate world, demonstrating in concrete form the widespread significance of Iranian cultural traditions, especially in India.
The subject range is wide, including: theological texts, prayer-books, commentaries on the Qur'ān, works on Sufism, and the lives of saints and prophets; literary and poetic texts, romances, chronicles and fables; writing manuals, books on grammar, dictionaries and encyclopaedias; volumes on the history of India, the Mughal Empire and Indian local history; and works on law, philosophy, medicine, natural history, geography, cosmography, occult science, astronomy and astrology.
We are just beginning a project to digitise and catalogue this amazing collection of manuscripts, thanks to generous external funding. For now, we are showing a small taster, including stunningly beautiful manuscripts of poems by the famous Niẓāmī Ganjavī and an extensively illustrated copy of Qazwīnī's ʻAjāyib al-makhlūqāt (Wonders of Creation).