Petrarch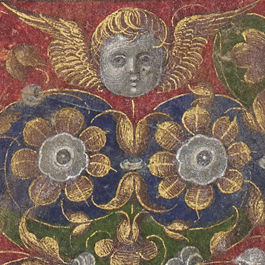 The Petrarch collection holds more than 80 fully-digitized editions of Petrarch's Italian poetry and associated commentary, all printed between 1470 and c. 1650. These editions are held in the collections of the John Rylands Research Institute and Library, and digitized as part of the AHRC-funded project 'Petrarch Commentary and Exegesis in Renaissance Italy, c.1350-c.1650'.
The poet and humanist Francesco Petrarca (1304-74) or Petrarch remains to this day one of Italy's most iconic and influential vernacular poets. Petrarch's influence on poetic and linguistic practice was epoch-defining in Renaissance Europe. His vernacular poetry became the supreme model for lyric poetry and indeed for refined literary style itself. It spawned countless admirers and imitators in England, Germany, France, Spain, Italy and elsewhere. In Italy, Petrarch's poetry provided the basis upon which to establish the standards for developing and regulating the Italian language.
With the rise of Petrarch's reputation and influence came the emergence, especially in the late fifteenth and sixteenth centuries, of a rich and extensive body of critical commentary upon both of his vernacular poetic works. In manuscript and increasingly in print, we find over twenty major full-length commentaries (many in multiple reprints), several hundred items of other exegesis such as annotations in editions, public and private lectures ('lezioni'), dialogues, and treatises. And yet, quite remarkably, especially given Petrarch's influence, diffusion and transnational appeal, no attempt has been made to catalogue or understand as whole this body of critical interpretation. This ambitious collaborative project aims to address this neglect and to lay the foundations for all future research on the Italian context, and, given Italy's formative role in this period, for research on Petrarch's afterlife in a variety of other European contexts.
The project 'Petrarch Commentary and Exegesis in Renaissance Italy, c.1350-c.1650' is funded by the AHRC and led by Professor Simon Gilson (University of Oxford, Principal Investigator), Dr Federica Pich (University of Leeds, Co-Investigator) and Dr Guyda Armstrong (University of Manchester, Co-Investigator). The team includes also two Postdoctoral Fellows, Dr Giacomo Comiati (Oxford) and Dr Lorenzo Sacchini (Leeds) and Julianne Simpson, Rare Books and Maps Manager at the University of Manchester Library.