Syriac Manuscripts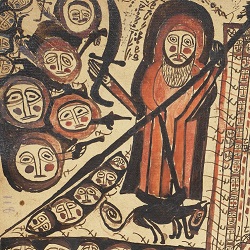 The Syriac manuscript collection in the John Rylands Library comprises some seventy manuscripts and manuscript fragments dating from the 6th century CE to the early 20th. Both sacred and secular texts are represented. The former include Old and New Testaments, Bible commentaries, lectionaries, psalters, collections of hymns, prayers, amulets or charms, and liturgical books. Amongst the secular works are grammars, dictionaries, writings on natural history, philosophy, astrology and the occult. 48 items are in West Syrian dialect, the remainder in East Syrian and Melkite; some include Karshuni (Arabic language in Syriac script). Some items are extremely important for their rarity or age.
The selected works available in this digital collection include a manuscript of the Peshitta Old Testament copied in China (Syriac MS 4); works by Bar Hebraus (Syriac MS 16 and Syriac MS 44); books of hymns (Syriac MS 6 and Syriac MS 24); and an illustrated compendium of amulets (Syriac MS 52). Other important Syriac manuscripts not yet digitised include a 6th-century Four Gospels in the Peshitta version, said to have belonged to the Monastery of Mar Zakkai (Syriac MS 1); a 12th-century New Testament, including Revelation and minor catholic epistles, and the Passion story excerpted from the Gospels of Thomas of Harqel (Syriac MS 2); Apocryphal books of the Old Testament in East Syriac script, 15th-17th centuries (Syriac MS 3); the Odes and Psalms of Solomon, 15th-17th centuries (Syriac MS 9); and the New Testament Acts and Epistles in the Peshitta version, 9th-11th centuries (Syriac MS 15).
Manuscripts numbered 1 to 6 derive from the Bibliotheca Lindesiana of the earls of Crawford, the manuscript portion of which Enriqueta Rylands purchased in 1901. The remainder came from the scholar-collectors James Rendel Harris (1852-1941) and Alphonse Mingana (1878-1937). The latter was employed as a cataloguer at the John Rylands Library from 1915 onwards, later transferring his services (and at least ten manuscripts illicitly) to Selly Oak College in Birmingham.