Papyrus to Print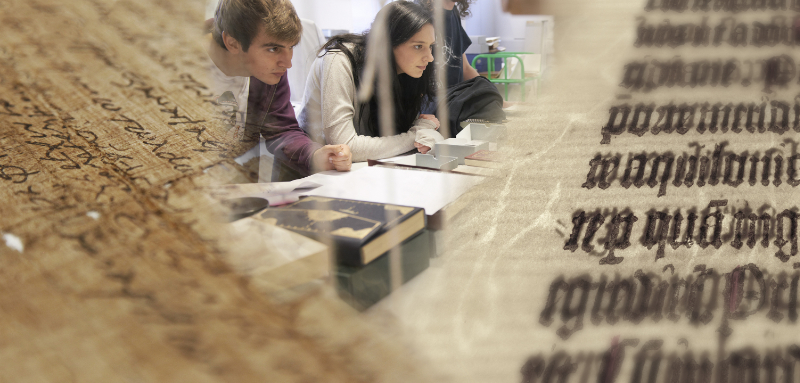 The University of Manchester Library's Special Collections are among the most important primary sources in Europe, with enormous research potential across an array of subjects. Rare books range from the pinnacles of European printing, such as Gutenberg and Caxton, to examples of street literature and seditious texts. Manuscripts span four thousand years and over fifty languages, and are written on virtually every medium ever employed, including clay, papyrus, parchment, vellum, linen, palm leaves, copper, ivory, felt, bark and bamboo. We encourage the use of these collections in teaching, especially to investigate the history of the book throughout the medieval and early modern periods, including its classical and late antique antecedents, and the late medieval and early modern transformation into print.
The initial focus of these digital collections is material used for teaching on the MA in Medieval and Early Modern Studies but we intend to expand the collections to also cover more recent history of European print and global histories of the book.
From Papyrus to Print: The History of the Book in Medieval and Early Modern Europe
This course investigates one of the principal surviving artefacts from the medieval and early modern period: the book. Taught by a number of specialists drawn from across the School of Arts Languages and Cultures and from the John Rylands Research Institute and Library, the course examines the book as a bearer of cultural residue, a pivotal resource for understanding the development of writing and reading from late antiquity to the dawn of print.
Palaeography: Reading the Middle Ages, Renaissance and Early Modern Period
This module investigates the way in which words are presented within a book: types of script, layout on the page, visual accompaniments, physical features. It interrogates the uses of script in various genres, such as administrative and visual-textual sources, as well as in less conventional forms, like charters and rolls and will develop advanced palaeographic skills in hands from the early medieval through to the late early modern period.
Egypt in the Graeco-Roman World
Through a close study of Greek, Latin and Egyptian papyri in English translation, together with literary and archaeological evidence where appropriate, students will be guided to an in-depth study of key-themes and topics in the history of the region and more broadly the Mediterranean world, such as literacy and education in a multicultural society, ethnicity and power, demography and social structures, imperial administration, religions and magic.
The Art of Medieval Manuscripts
This course introduces students to the glorious imagery on the pages of many medieval books in the West, from the first regular appearances of a 'rectangular object with pages' in the fifth century to the time when printed books with printed images became relatively commonplace in the sixteenth century.